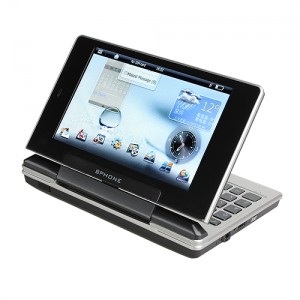 J'en bave encore sur mon clavier. J'attendais ça depuis 4 ans, le voici ! Enfin un digne successeur du Zaurus et qui en plus téléphone ! Ecran rotatif, système d'exploitation propre, le Bphone, sur le papier, c'est une tuerie. Ce device semble tout frais, je ne saurais donc vous dire ce qu'il vaut réellement mais voilà les specs :
Operating system – ARM Linux 2.6
CPU – Marvell PXA310(624MHz)
Memory – 256MB NAND Flash, 128MB SDRAM
FM Radio – Pick up your favorite FM radio stations wherever you are.
Bluetooth – High speed wireless technology.
Touch Screen – Easy-to-use and responsive touch screen function for smooth navigating.
Full Screen View – Crystal clear viewing with our cinematic full-screen mode.
Fully Unlocked – Works on all four main GSM frequency bands for great reception world wide.
Java Enabled – Get the latest cool Apps on your phone with Java technology!
Flip Function – More compact and more stylish.
Built-In GPS – Never get lost with an accurate GPS system built in.
WiFi – Check emails, connect online, or surf the Web with advanced WiFi technology.
QWERTY Keypad – Full QWERTY keypad for ease of use.
Il semble tout savoir faire (quadriband 3g ready) une interface qui claque comme un compiz ben configuré, le tout semble en plus relativement fluide. D'origine hong-kongaise il est l'oeuvre de Sojeng (attention les sites web c'est pas trop leur truc en revanche), le cofondateur semble être un français). Le prix annoncé est de 569$, et disponible via le site Chinagrabber… Bon dis donc les ours ? Il est quand dispos sur Hackable:Devices celui ci ?