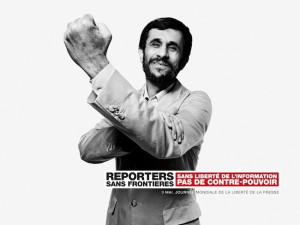 Vous n'aurez probablement pas manqué que nous nous intéressons en ce moment pas mal à l'Iran sur Reflets. Les quelques recherches que nous y avons fait nous ont conduit tout droit à la TCI (Telecommunication Infrastructure Company). Déjà spotté par le BlueCabinet ce fournisseur d'accès national concentre à lui seul tout le trafic Internet du pays. La TCI est LE point de centralisation rêvé pour surveiller Internet en Iran.
Pour bien visualiser ce qu'est la TCI, je vous propose de vous pencher sur ces graphs générés par le splendide outil mis à disposition par le Berkman Center for Intenet & Society de l'université d'Harvard (thx Wizasys) :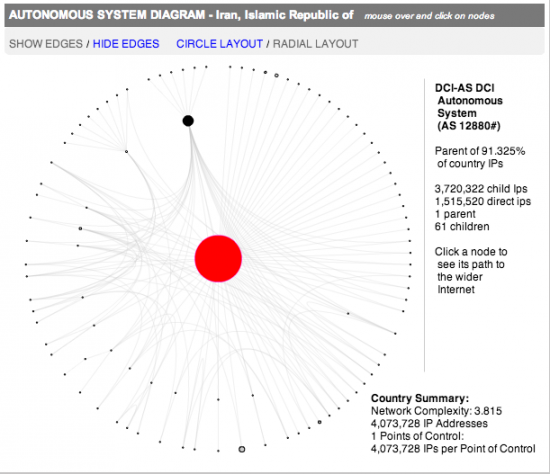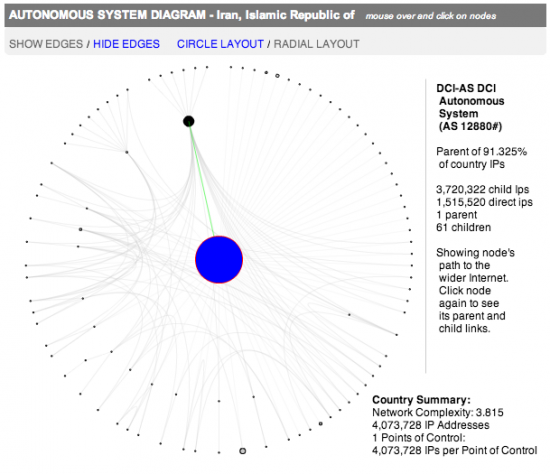 Ces schémas mettent en évidence un point de centralisation dont toutes les adresses IP iraniennes dépendent, la marque de fabrique d'un Internet tout pourri, ultra surveillé et passablement censuré.
Ce point de centralisation, c'est l'AS12880, celui sur lequel nous avons trouvé de très intéressantes machines, à savoir 4 ZTE ZXSS10 B200 et 2 HP H3C SR8808 équipés de modules dédiés au filtrage applicatif. Vous trouverez plus d'informations sur ces trouvailles dans l'article publié cet après midi sur Reflets.info.
Ces machines sont situées sur les plages IP attribuées à TCI. Le BlueCabinet de Telecomix rappelle que TCI s'est justement doté d'une infrastructure de surveillance dans laquelle on retrouve tous les grands noms, et qu'au coeur de ce système, on trouve bien du ZTE :
« Mahmoud Tadjallimehr, a former telecommunications project manager in Iran who has worked for major European and Chinese equipment makers, said the ZTE system supplied to TCI was « country-wide » and was « far more capable of monitoring citizens than I have ever seen in other equipment » sold by other companies to Iran. He said its capabilities included being able « to locate users, intercept their voice, text messaging … emails, chat conversations or web access. »'…
Nous en savons donc maintenant un peu plus sur l'infrastructure de surveillance iranienne, nos questions sont remontées jusqu'à Palo Alto, nous vous tiendrons naturellement informés des réponses des intéressés.